Discover the Power of Ableton Live
Get into music production and computer-based live performance with Ableton Live 10 Intro. This streamlined version of Ableton Live 10 is an excellent and affordable option for electronic musicians, songwriters, and creative recording engineers. Its combination non-linear Arrangement View makes it easy to play with ideas and build your songs in sections, while the more traditional Session View lets you record multi-track audio in up to 32-bit/192kHz resolution. Top it off with an extensive collection of sounds, effects, and processors, and Ableton Live 10 is far from a mere entry-level DAW.
An ideal DAW for creative artists
From the beginning, Ableton Live has been as much a creative tool as a DAW. That largely has to do with the way Live lets you construct tracks and play with audio in real time. There are two main parts to Live: the Session View, and the Arrangement View. The Session View is more or less a standard linear DAW, with time on the X axis and tracks on the Y axis.
Where Live differs from other DAWs is its Arrangement View, which puts individual tracks on the X axis and scenes on the Y axis. Each scene contains a slot on each channel for a clip. Clips are usually short pieces of audio or MIDI a few measures long or shorter, which loop to create grooves. Launched individually, these loops let you experiment with your arrangements, trying out various combinations of grooves and riffs.
Since everything from modern electronic music to classic rock and blues is heavily based on repeating sections, Live's Arrangement View makes it an ideal creative tool for all kinds of songwriters. In fact, the songwriting tools don't stop there. In addition to launching individual clips, you can launch entire scenes, complete with automatic advancement to subsequent scenes, scene repeat instructions, and other logic options.
Using scenes makes it easy to arrange entire songs in parts (verse, chorus, etc). And when you record your progression to the linear Session View, you add the possibility to record lead lines and other performances that fall outside the rest of the song structure. What's more, all of the loop-/riff-based arrangement options are still available on the timeline, so you can continue to edit and build on your song, even after you record it to the session view.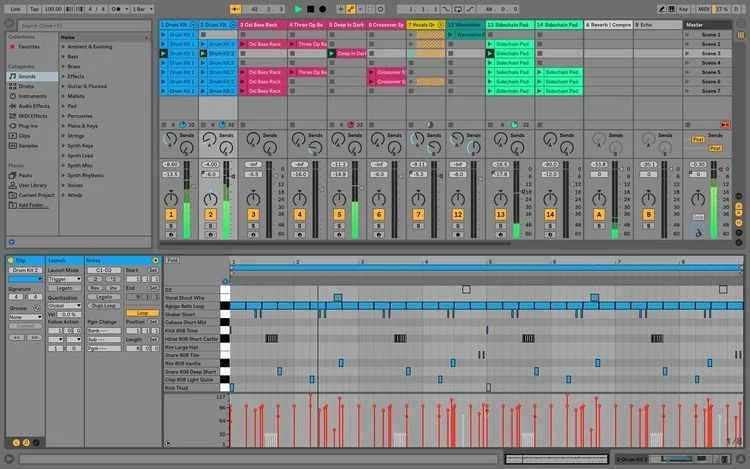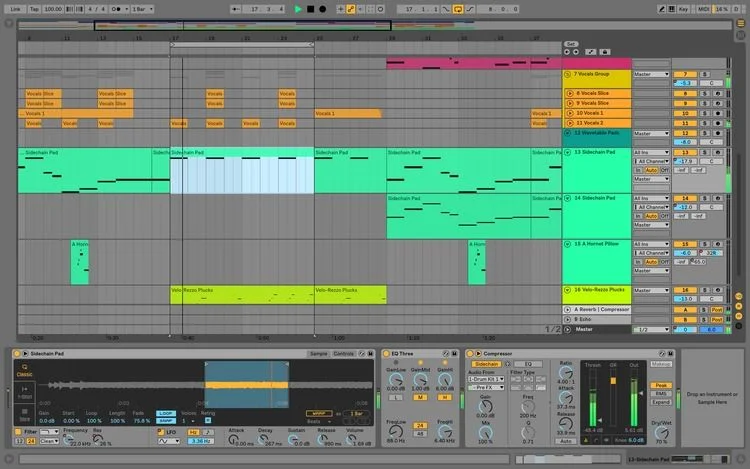 All of the standard DAW functions you need
In addition to the standard linear Session View, Ableton Live comes loaded with every standard DAW function you need. Nondestructive multitrack recording at up to 32-bit/192kHz is the beginning. You get powerful mixing and signal-flow tools such as bussing and return tracks. VST and AU plug-in formats fit right into your workflow, right alongside the wonderful tools bundled with Live. Live's MIDI sequencing capabilities are second to none, and easy access to automation curves, MIDI learn, and more make this DAW a total powerhouse.
Excellent tools to get you started
Ableton Live 10 Intro includes an excellent set of content you can use to make music right from the start. For instance, the Loopmasters Mixtape pack comes with many excellent loops and samples. More importantly, you get all of the basic processing you need, such as compression, and EQ, plus chorus, delay, and other cool effects. On top of that, powerful MIDI effects are great ways to explore creative ground you might not consider otherwise. And when you add your own third-party plug-ins, all of these tools add up to an amazingly rich music-production system.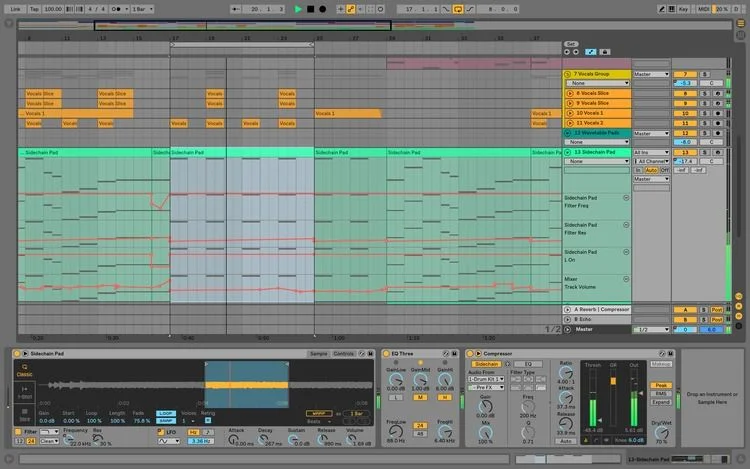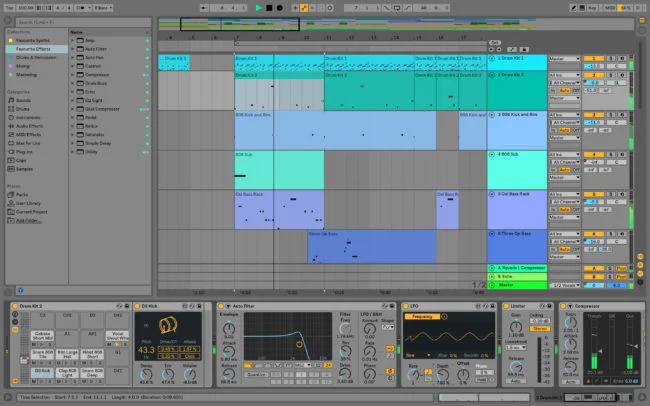 Cool new content to get excited about
Live 10 Intro introduces two excellent expansions to this DAW's lineup of stellar content: Chop and Swing and Utility. Chop and Swing is a fun new pack dedicated to classic sampling and groove construction. It's loaded with select recordings and killer presets for producing sliced beats. The Utility effect is also super handy. It lets you adjust critical track parameters, such as gain, phase, stereo width, and more.
Tons of powerful new features in every version of Live 10
Ableton really stepped up their game with Live 10, introducing a bunch of great new features. If you've used previous versions of live, then you're definitely going to want to check these out. Both live and in the studio, organization is key. Being able to group tracks within groups lets you work with massive track counts efficiently, while I/O renaming is a nice bonus. Likewise, Browser Collections also streamline content management. Other great features include Capture, which lets you turn any performance into a MIDI, without thinking about recording, while Note Chasing will play MIDI notes, even if you start playback in the middle of a note.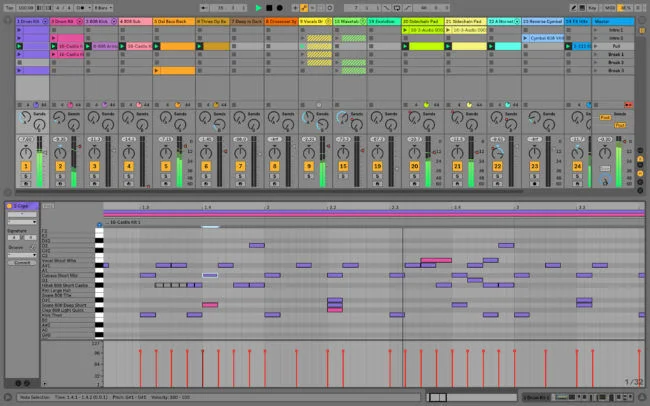 NEW Features:
Capture — Recall your best ideas after you've played them – Capture can turn what you played into MIDI clips, without having to think about recording.
Browser Collections — Designed to help you better manage your Live 10 data, you can create Browser Collections that combine elements such as projects, audio files, device presets, and so on. It should make it much faster and easier to keep track of all files associated with a project, for example.
Note Chasing — Another often-requested feature, MIDI notes will be triggered even if playback starts in the middle of a note. Especially if you're working on ambient music with lots of long, sustained pads, you'll definitely appreciate this one.
I/O Renaming — Live 10 now allows producers to label Live's inputs and outputs to match your studio setup. Especially if you work with a large audio interface and lots of outboard gear, this is a huge help.
Improved Mixing Tools — Improved gain range and a Bass Mono feature that makes it easy to manage low frequencies. The EQ Eight device now offers an extended low-frequency range, down to 10Hz for better bass management. And Split Stereo Pan gives you independent pan control over split-stereo audio files.
Chop and Swing Pack — A homage to the style that made sampling an art form and put a new kind of groove on the musical map. Chop and Swing comes loaded with curated recordings and professional presets perfect for cutting up and re-combining into fresh new tracks.
Utility Tool — Multipurpose tool for adjusting gain, phase, stereo width, and more.
Ableton Live 10 Intro Features:
A unique, affordable DAW designed from the ground up for the creative studio or performing musician
Includes 1500+ sounds (5GB+), 4 software instruments, 29 effects, and 5 content packs
16 x tracks and 8 x scenes gives you plenty of space to create intense compositions
Arrangement View provides a nonlinear approach to music creation via groove/loop/riff arrangement
Session View provides quick and intuitive composition plus flexible performance and improvisation options
Multitrack recording up to 32-bit/192 kHz
Nondestructive editing with unlimited undo lets you freely create
Powerful MIDI sequencing lets you take control of software and hardware instruments
Advanced warping and real-time time-stretching provides extensive flexibility with audio files
Get creative with unlimited Audio effects and MIDI effects per project
VST and Audio Unit support lets you use all of your favorite plug-ins and virtual instruments
Group tracks for better organization and simpler automation
Time signature changes allows you greater flexibility when scoring to video
Multiple automation lanes makes setting up intensely dynamic mixes easy
Track Freeze lets you free up your computer's resources without stripping down your mix
Automatic plug-in delay compensation minimizes phase issues and tightens up your mix
Instantly map MIDI control to nearly any parameter for a fully customized control environment
MIDI output and MIDI Clock/sync let you create deeply complex rigs combining hardware and software seamlessly
ReWire support provides easy integration with Propellerhead's Reason and other software
Multicore/multiprocessor support
WAV, AIFF, MP3, Ogg Vorbis, FLAC file support